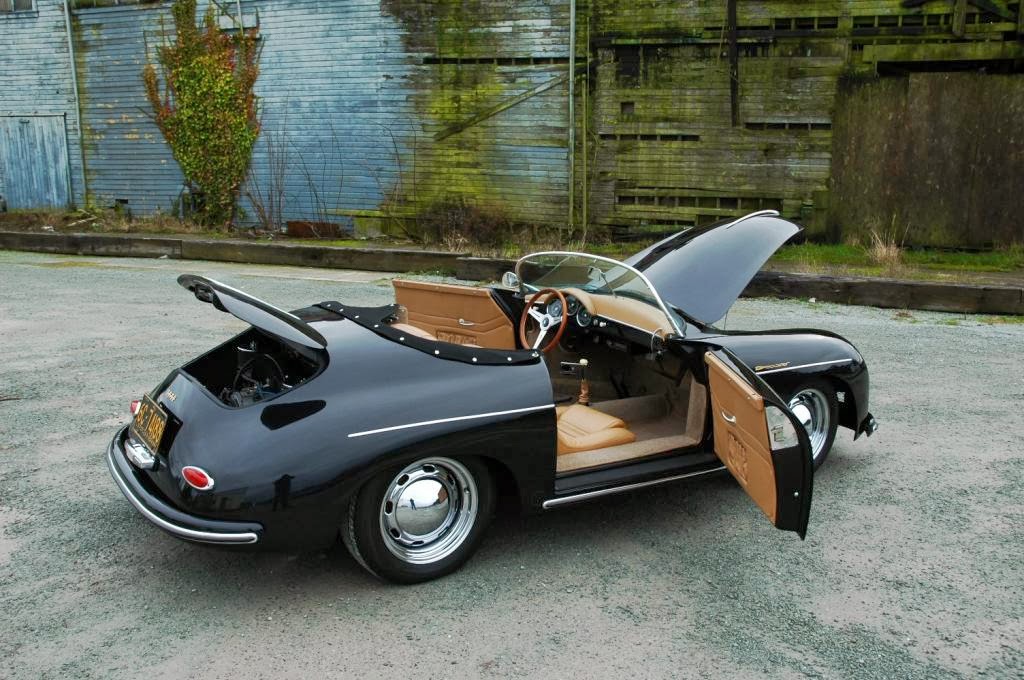 For Auction, 1957 Porsche 356 Speedster
Price Bid
Buy Classic Volks – 1957 Porsche 356 Speedster for sale in Burlington, Washington, USA. Very Good condition. Gorgeous 1957 Porsche 356 Speedster by Vintage Speedsters – Factory Built Replica. The Deposit: Please be ready to place a $500 deposit within 48 hours of the auction's close. The complete transaction must be completed within 7 days of the end of the auction. NO RESERVE AUCTION, NO TRADES
Porsche 356

Year
1957
Type
356
Model
Speedster
Color
Black
Engine
1776cc Flat 4 VW
Made in
Germany
Condition
Very Good
Up for auction with no reserve is my factory-built Vintage Speedsters 1957 Porsche 356 Speedster replica with 325 actual miles since completion. Vintage Speedsters has been building one of the highest quality, best-detailed Speedsters on the market, and this one is heavily factory optioned with an extensive list of upgrades:
Metallic black paint upgrade ($400) Tan leather interior upgrade ($800) Trunk carpet upgrade ($150) Tan coco mat upgrade ($100) Tan vinyl tonneau upgrade ($200) 1776 Engine upgrade ($900) Dual carburetor upgrade ($350) Special exhaust upgrade ($350) 3:88 Transmission upgrade ($350) Front disc brake upgrade ($350)
In addition to the factory-installed upgrades, this Speedster has a Memphis Audio hi-fi sound system and Viper alarm cleanly integrated into the interior. The sound system includes an Alpine AM/FM/CD/MP3 (Bluetooth capable) receiver feeding two Memphis amplifiers on a custom rack mounted under the hood and wrapped in matching tan square-weave carpet. The first amp runs 2 Memphis mids mounted in custom pods below the dash. The second amp runs 2 10-inch Memphis subwoofers in an indiscrete enclosure behind the seats. It makes a very clean and clear sound, even at 70 MPH on the freeway with the top down.
Vintage Speedsters uses a custom-built, jig welded, 2×4 inch 11-gauge steel frame. An original 1970 VW pan was restored, shortened, and welded to the new steel skeleton at the Vintage Speedsters factory. The rigid new structure retains the original VW pan designed by Dr. Ferdinand Porsche and integrates the largest frame possible. All of the Vintage Speedster cars easily pass the jack test meaning that they are not going to twist when jacked up under one corner. In addition, the steering wheel is offset slightly, just like an original Porsche Speedster.
With the upgraded 1776cc engine, 3:88 transmission, and disc brakes this Speedster drives out incredibly. I have a garage full of vintage VWs and this one is by far my favorite to drive. The car has good power, sounds great, tracks perfectly, and stops on a dime.
As I drove the car out to shoot the pictures, I really started doubting my thoughts of selling it. This was always my must-have "bucket list" car, but I have a mid-restoration 1956 Lowlight Karmann Ghia that is way overdue to get back on the road. There is no way that my Ghia is going to be on the road this summer without the proceeds of the Speedster, so here it is. Ready for the proud new owner. If you haven't owned a Speedster you are in for a huge treat. There is nothing else in this price range that is such a blast to drive and turns heads everywhere.
Worldwide shipping is available.
Location the Porsche in Burlington, Washington, USA