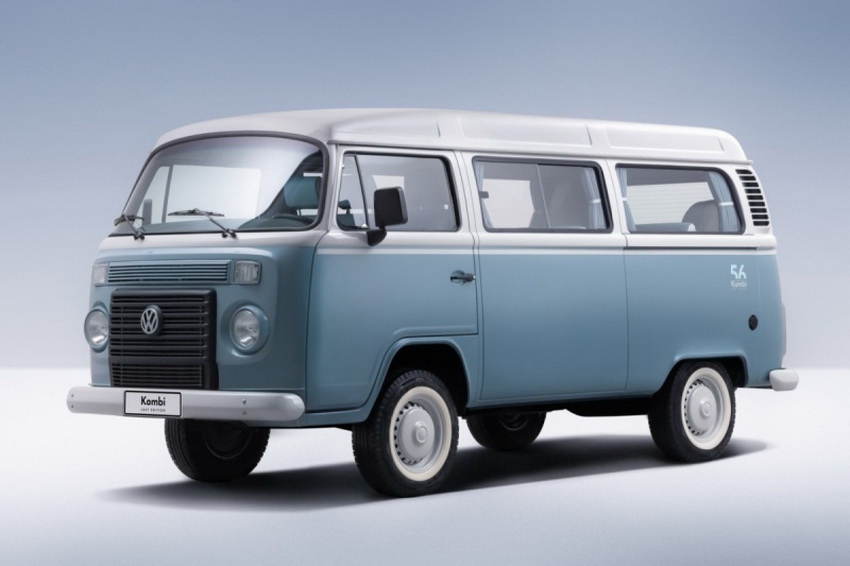 Volkswagen Type 2 Microbus Kombi Last Edition
After 56 years of production the bus must the end. Fantastic the longest standing model in production, more than 1.5 million units had been produced at Brazil.
The Kombi is the most everlasting production model in automotive history. The Volkswagen Type 2 Microbus Kombi is finally ending, thanks to the new safety regulations for do had stopped the bus journey.
Volkswagen decided to say a proper "Farewell" by announcing the production of the 600 Blue Volkswagen Kombi Last Edition vans, before the new safety regulations applied in Brazil.
The Last Edition will be available for purchase only within Brazil, price $35,637 per unit and comes with a certificate of authenticity from VW and a numbered plaque on the dashboard identifying it as one of 600.
Volkswagen Type 2

Year
2013
Type
T2C
Model
Transporter 9 seater
Color
Light Blue and White
Engine
1.4L 77bhp 4 speed
Made in
Brazil
Condition
New
Volkswagen Kombi Last Edition, Specification
Color white and blue, whitewall tyres, white centre wheel caps and tinted rear windows.
Interior, the Last Edition has distinctive blue fabric curtains in the side and rear windows and curtain fasteners bearing the 'Kombi' logo, a feature typical of the top versions from the 1960s and 70s.
The model can seat up to nine people. The seats are finished with a special vinyl upholstery, with sides in Atlanta Blue, with blue and white centre sections. The internal side, door and cargo panels are also upholstered in Atlanta Blue vinyl, with decorative stitching.
Items such as the instrument cluster have also been given a retro look, with the traditional Kombi design of speedometer at the centre and fuel gauge on the right, although there are also up-to-date features such as an MP3 sound system with auxiliary and USB ports.
Power by 1.4-litre engine delivering 77bhp (79bhp on ethanol fuel, which is commonly used in Brazil) and a four-speed manual transmission.
Each Kombi Last Edition is provided with a special certificate of authenticity.
Volkswagen Kombi Last Edition, Should I buy one?
You live in Europa or elsewhere in Brazil you won't be able to buy a new one from a Volkswagen dealer. You can ask to Brazilian Volkswagen dealer, *maybe you will be directed to there are firms importing them into Greece or Netherlands and sending them elsewhere in the EU from there, or you can import one yourself and try for single type approval. But be prepared to pay far more than between 40-50k Euros a Brazilian dealer would sell for you.
Replacement 2014 Volkswagen Microbus