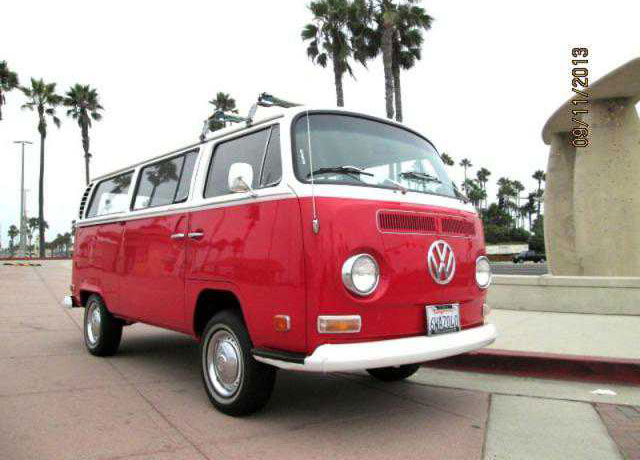 For Sale 1971 VW Deluxe Bus
Price SOLD
Buy Classic Volks – Volkswagen Deluxe Bus for sale California. Year construction 1971 Type 2 A on very good condition. Color combination red and white. I am selling this unbelievable 1971 VW Deluxe Bus, Take a look!!
Now I'm hoping you're looking at this to buy, because if you are, you found the right one!
It is as I say, a 1971, Known to all in the Volkswagen world as the "BEST YEAR" of the bus, and for good reasons.
it's a Beautiful Van, No Corners cut here!! We went through all of it from top to bottom.
We started with a Very Nice, all original Deluxe Bus, California bus for the last 42 years!! The paint is just a Work of Art!!
Volkswagen Type 2

Year
1971
Type
T2A
Model
Transporter
Color
Red and White
Engine
1600cc Dual Port
Made in
Germany
Condition
Good
And as for the Interior, we took it all out, windows and all, and started with a Brand new "Acme" headliner,
This was professionally done by Abel at ACA Upholstery of Long Beach, (562)235-4702, and is so nice!! Never let someone tell you, "Oh, Just needs a headliner", it's a Hell of a Job!!!
Next, the seat's, and I mean Seat's, ALL OF THE ORIGINAL ONES, This bus is a 7-Passenger,
The rear seat, holds 3, and has All original Seat belts, And the Middle one, 2 passenger short middle seat, with arm rest and Original Belts as Well! .
Able did a great job on them also!! As for the original Covers, and door panels,
All are New from "TMI" of Corona, for sure the best in New panels. They are a perfect match, with Heat-pressing lines, Just as the German factory did it back in 71!
As for the Floors, we went right to the Stock Rubber Floor mating, including the pre-formed parts under the front seats!
Went you get the front, the Original Dash is So Nice, No Cracks!! WOW, 43 years without Cracks? Nice…..
We have a beautiful sounding C/D Stereo, that sounds so Nice! As for the Drive train, This is part of why 1971 is the Best year!! 71 was the first year for "Power-assist" Brakes, and the Only year for the 1600cc Dual-Port Motor, After that, Motor changes to the worse, sorry to say?
So Lucky you, you picked the right year, This one had a Motor
and Transmission rebuilt just about 30k Miles ago, so has a long life ahead!! I will tell you, its like driving a New Bus right out of 1971!!
Many times, people do custom work fixing them up the way they like, this one has been restored as close as Stock as I could do!! Look at the Tires Too!
Original Cap's, with VW Logo's, and Nice Chromed Beauty rims! Even the Whitewall Tires!
This car has been built to Drive, have fun with, but is also a great investment, If you have followed the way they have appreciated in the past years, you will be buying a real investment as well as Fun!!
$A reral good offer Will let you Drive it home!!
Believe me, in a couple years, I will see it in the 20k's easy!! But its up now, so call me !!!!! NO EMAILS!!