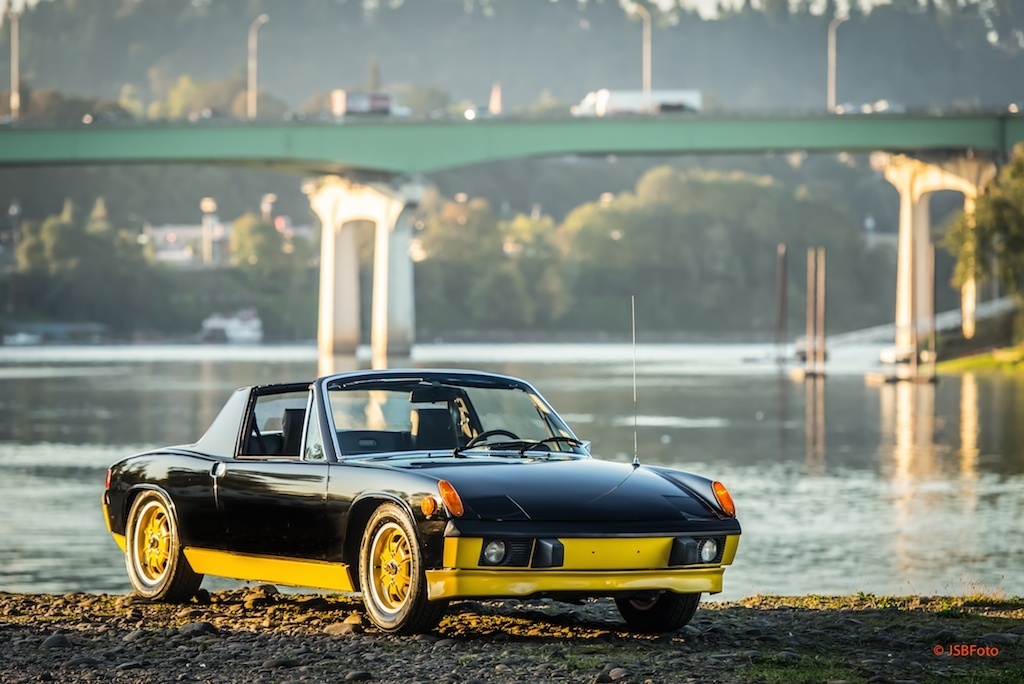 For Sale, 1974 Porsche 914LE
Price 19,975 USD
Buy Classic Volks – Porsche 914 for sale in Portland, Oregon, United States. It's a Porsche 914LE built in 1974 comes in black exterior and black interior, very low miles has 40650 miles on good condition ready to go for new owner.
Porsche

Year
1974
Type
914LE
Model
Targa
Color
Black
Engine
2.0L
Made in
Germany
Condition
Good

Detail by owner
1974 PORSCHE 914LE BUMBLEBEE VERY LOW MILES RUST FREE ARIZONA 914 LE BUMBLE BEE
Documented genuine LE per COA from Porsche. Registered on the 914LE Registry.
Clear Oregon Title in my name.
Straight & Solid. Even the "Hell Hole" is solid with just a couple of spots of minor surface rust on solid metal where most 914's have only "air".
Spent most of it's life in Arizona. I found it in a garage in California two years ago. It had been in storage for a few decades.
The paint was tired with a few scratches and nicks so I had it repainted shortly after I got it home. The painter has painted several 356's and 911's for me over the years and did a good job with the correct single stage, German paint. The original paint was fine under the front hood and inside the doors so I had them leave those parts original. The car looks great, but if I was going to keep it I would do one more cut and buff now that the paint has cured for a couple years.
The interior is original and in good condition. If I planned to show it I would redo the door panels, garnish rails and the dash top which has a few minor cracks. Gauges all work great – even the clock! Lights, horn, wipers, radio, etc all work fine.
Has all of it's original tinted glass including the original Sigla, Made in West Germany windshield which has no cracks and few pits.
Has all five Mahle Gas Burners that the LE's came with. New Bridgestone tires.
Since the car sat for so long we pulled the fuel tank and cleaned it. Also flushed the hoses (vacuum & fuel), replaced all of the hoses and all four fuel injectors. The car runs fantastic now.
We also flushed the brake system, replaced the master cylinder and hoses. The calipers were also rebuilt and have new pads all around. Brakes are great and handbrake works fine.
Transaxle is fine with great syncros – even 1st gear! Shifts smooth. The throw out bearing makes a bit of noise, but it has been diminishing so I think it was just from lack of use. If I had another reason to drop the engine I would just replace it, but the noise isn't bad enough to drop it just for that.
Engine runs great. Starts quickly, no smoke, no weird noises, nice idle and pulls strong to redline. It is the correct 2L engine, but not the original per the COA.
Additional pictures at:
http://www.slickpic.com/share/MxxENZDcdzZWdN/albums/Porsche914LE?preview
It is fun and easy to drive. I wouldn't hesitate to hop in this car and head for LA. It would be a fun drive and I would expect to get between 35-40 miles per gallon with hundreds of smiles along the way. PEOPLE LOVE THIS CAR!
I have done my best to accurately describe this car, but like any major purchase I would recommend a personal inspection. I am selling this car in "as is" condition with no warrantee, express or implied. Transportation is the responsibility of the purchaser, but I will assist the transporter in loading the car. The car will need to be paid for within 5 days and picked up within 15 days of the sale.