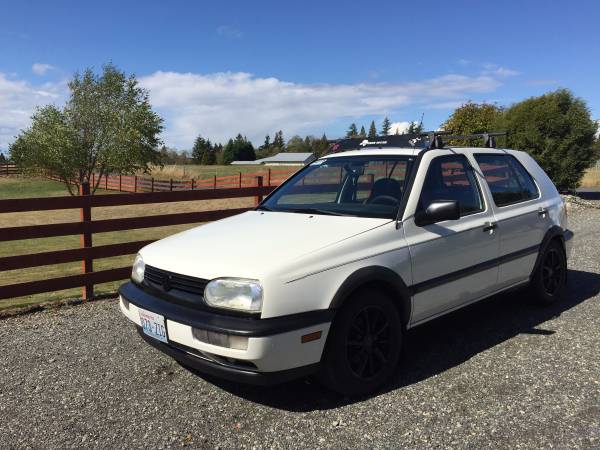 For Sale 1998 VW Golf GL
Price $2800 USD
Buy Classic Volks – VW Golf GL for Sale in Ferndale, Michigan. It's the third generation small family car was offered by Volkswagen commonly known as the Volkswagen Golf released in 1998 is 2.0l mated 5-speed manual trans model with pretty well-maintained and has been driven about 169556 miles. Already offered in Craigslist about 4 days ago looking for a new owner.
Volkswagen Golf

Year
1998
Type
Golf
Model
GL
Color
White
Engine
2.0L
Made in
Germany
Condition
Good

Owner says
I have a 1998 Volkswagen Golf GL 2.0 for sale. Car has been well-maintained and has been running great for the 3 years I've owned it. 169k miles, 5-Speed manual, brand new clutch installed 3 months ago, new spark plugs, coils, wires, battery, and distributor in the last year. Retractable sunroof, power locks, A/C all work great. Antifreeze was just flushed. Oil changed every 5k miles. Has a slight exhaust leak (I suspect just needs a new header gasket) that adds some excess noise, but otherwise exhaust is completely new. Body is in great shape with very little rust or dents. Tires were bought new 1 year ago, still have good tread on them. Comes with roof rack, bluetooth stereo w/ new kicker speakers and sub hookup ready to go. Headlights, brakelights/signals all work great. Brand new windshield. All the engine belts and hoses are in very good shape. Im asking $2800 obo.