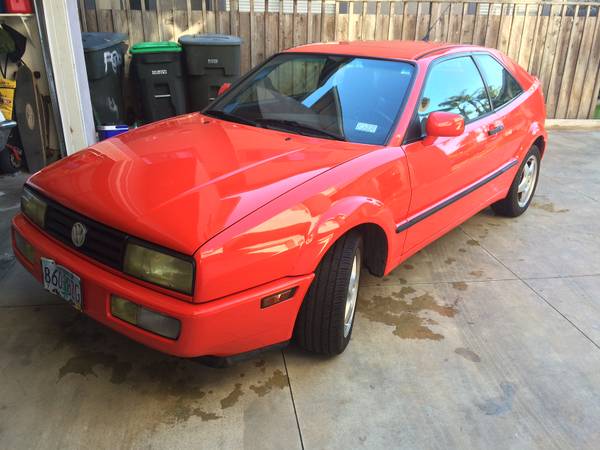 For Sale, Red Volkswagen Corrado VR6 1993
Price $4400 USD
Buy Classic Volks – Found this one cool Germany 2-door sport hatchback made by Volkswagen in 90s being offered for sale by owner located in Huntington Beach for $4400. As shown here is high performance Corrado well known as VR6 SLC model, comes in red with a good shape in and out with 227600 miles on it and well maintained.
Volkswagen Corrado

Year
1993
Type
Corrado
Model
VR6 SLC
Color
Red
Engine
2.9 litre
Made in
Germany
Condition
Good

Detail by owner
Beautiful 1993 Corrado, well maintained and owned by me for the past 10 years. 1993 is when VW dialed in the Corrado and this car is as close as you will find to rolling off the showroom floor considering it's age and use. I have driven this Corrado on/off daily for the past 10 years and always use synthetic oils. The VR6 motor still has the roar that made me buy it 10 years ago. Due to limited space and multiple projects it's time to say farewell. There are a few things going on that need attention, small on/off fuel leak coming from the fuel rail, headlight switch is going out, and a small amount of rust on the tail gate (no rust at all on the body of the car). Car is originally from Oregon, and still has current Oregon registration.
5 speed – VR6 – Upgraded Audi TT Front Bushings – VW Corrado – Black Leather – Alpine CD Player