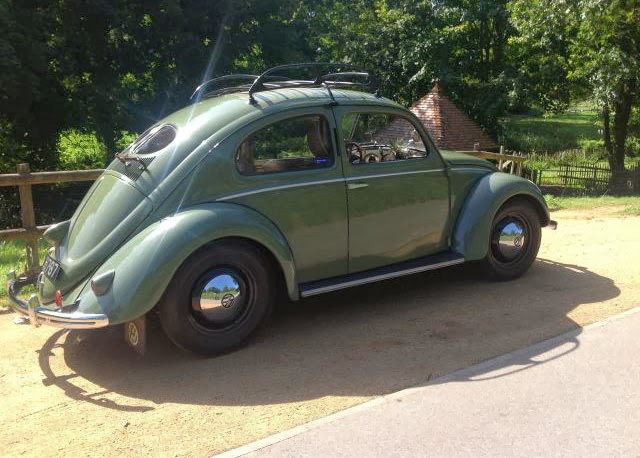 For Sale, Original 1950 VW Beetle Split Window
Price SOLD
Buy Classic Volks – Volkswagen Beetle Split Window for sale Jersey, Channel Islands. Year construction 1950 on Original Very Good condition. This a 1950 1950 split bug Built on 23 December 1950, left the VW factory on 28 December it must be one of the very last beetles made that year! She was exported to Sweden from new and spent most of her life there under cover before coming to UK about 7 years ago and then to my ownership about 3 years ago.
Volkswagen Type 1

Year
1950
Type
Type 1
Model
Beetle Split Window
Color
Green
Engine
1131cc single port
Made in
Germany
Condition
Very Good
She is very very original both exterior and interior wise and has no major welding ever done, all panels are original to the car and none have been replaced. She has only ever had a front brake hose bracket welded.
The interior has original seat covers, tan colored vinyl mats and carpets which are a bit thread bare after all this time but I am reluctant to change them. The headlining again is original and a bit tatty around the edges but then again so would you be at this age!
The car has had one respray done many many years ago in Sweden and it is a slightly lighter shade of green, the wings are original color and there are patches or original color on the car where it has been polished through. This real patina and not faked, again never wanted to wreck the character of the car by respraying it just to get a glossy even finish!
The engine and running gear are all original to the car and have been well maintained, she drives well on her original 16″ riveted wheels with brand new crossly tires so long as it is not damp on the roads! The gearbox has been rebuilt and is the original crash box to add more entertainment value to your driving experience!
The car comes with a lot of original accessories which are probably worth in total the value of a decent 60's bug in themselves hence the asking price is firm and I think fair considering the market, what I have spent maintaining her and I do not believe in making a big fat profit to spoil the VW scene for future people.